Order Watch the Girls
Amazon
Barnes & Noble
Books-A-Million
Indiebound
iBooks
Google Play
I've been watched all my life. I'm used to being stared at. Observed. Followed.
Fame and obsession collide in this darkly twisted novel from an incredible new voice in suspense.
SOMEONE IS WATCHING
Washed up teen star Liv Hendricks quit acting after her beloved younger sister inexplicably disappeared following a Hollywood party gone wrong. Liv barely escaped with her life, and her sister was never heard from again. But all this time, someone's been waiting patiently to finish what was started...
FOUR MISSING GIRLS
Now fifteen years later, broke and desperate, Liv is forced to return to the spotlight. She crowdfunds a webseries in which she'll pose as a real-life private detective &emdash; a nod to the show she starred on as a teen. When a mysterious donor challenges her to investigate a series of disappearances outside a town made famous by the horror movies filmed there, Liv has no choice but to accept.
FOLLOW THE WHITE WOLF
Liv is given a cryptic first clue: Follow the white wolf. And now a darker game is about to begin. Through social media, someone is leaving breadcrumbs to follow. As Liv makes increasingly disturbing discoveries, her show explodes in popularity. A rapt internet audience is eager to watch it all &emdash; perhaps even at the cost of Liv's own life...
Filled with provocative twists and turns as the line between plot and reality blurs in this inventive tour-de-force from breakout writer Jennifer Wolfe.
---
PRAISE FOR WATCH THE GIRLS
"A devastating novel that evokes Ingmar Bergman and David Lynch... this disturbing, surrealistic thriller will keep readers spellbound."
–Publisher's Weekly,
STARRED REVIEW
"[Wolfe] takes readers on a psychologically dark ride through a twisted underworld of fame and desperation, a journey that will keep readers guessing until the shocking ending."
–Booklist
"Make no mistake: Wolfe's got the goods. Timely, harrowing, and vividly imagined, WATCH THE GIRLS is a wild ride with style to burn."
–Chris Holm, Anthony Award winning author of
The Killing Kind
"Sibling rivalry and Hollywood obsessions collide...Fast-paced and fraught with suspense, WATCH THE GIRLS unravels like a perfect summer-night movie."
—BookPage
"WATCH THE GIRLS is everything you want in a thriller: suspenseful, spooky, and surprising right up to the final reveal. Jennifer Wolfe's outstanding novel is packed with enough vivid Hollywood dirt to bury a lot of bodies. A smart and razor-edged debut from a new star in the genre."
––Glen Erik Hamilton, Anthony Award winning author of Past Crimes
"WATCH THE GIRLS is one of those books—it gets under your skin and stays with you long after you've devoured the last page. It's the perfect dark, chilling thriller for the age of social media and ubiquitous reality TV that's anything but real. Jennifer Wolfe's damaged heroine toes the thin and ever-blurry line between truth and fake Hollywood glitz, right up until the devastating conclusion."
–Nina Laurin, author of Girl Last Seen
"…dark and unexpected turns culminat[e] in an ending fit for its own horror movie. Liv is a compelling protagonist with a distinct voice—snarky and vulnerable, tough and persevering—and the book as a whole takes clever swipes at the Hollywood culture that has pervaded our lives."
––CrimeSpree Magazine
"Twisty, tense, and addictive, WATCH THE GIRLS is like a great horror flick, a classic mystery, and an edgy piece of social commentary—all wrapped up into one dark, delicious package. Jennifer Wolfe is a huge new talent. Welcome to the book everyone will be reading this summer."
– Brad Parks, author of Closer Than You Know
"[A] campy debut thriller...with [a] twisty and twisted ending."
–Kirkus Reviews
Other Works
by Jennifer Wolfe
Young Adult
as Jennifer Bosworth
The Killing Jar
Seventeen-year-old Kenna Marsden has a secret. She's haunted by a violent tragedy she can't explain. Kenna's past has kept people - even her own mother - at a distance for years. Just when she finds a friend who loves her and life begins to improve, she's plunged into a new nightmare: Her mom and twin sister are attacked, and the dark powers Kenna has struggled to suppress awaken with a vengeance.
On the heels of the assault, Kenna is exiled to a nearby commune, known as Eclipse, to live with a relative she never knew she had. There, she discovers an extraordinary new way of life as she learns who she really is and the wonders she's capable of.
Amazon
Barnes & Noble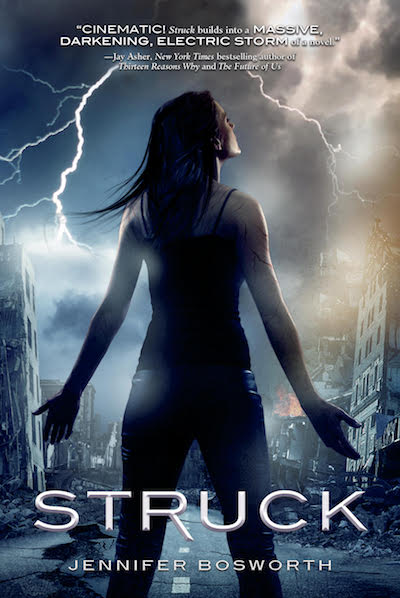 Struck
Mia Price is a lightning addict. She's survived countless strikes, but her craving to connect to the energy in storms endangers her life and the lives of those around her.
Los Angeles, where lightning rarely strikes, is one of the few places Mia feels safe from her addiction. But when an earthquake devastates the city, her haven is transformed into a minefield of chaos and danger. The beaches become massive tent cities. Downtown is a crumbling wasteland, where a traveling party moves to a different empty building each night, the revelers drawn to the destruction by a force they cannot deny. Two warring cults rise to power, and both see Mia as the key to their opposing doomsday prophecies. They believe she has a connection to the freak electrical storm that caused the quake, and to the far more devastating storm that is yet to come.
Mia wants to trust the enigmatic and alluring Jeremy when he promises to protect her, but she fears he isn't who he claims to be. In the end, the passion and power that brought them together could be their downfall. When the final disaster strikes, Mia must risk unleashing the full horror of her strength to save the people she loves, or lose everything.
Amazon
Barnes & Noble
Film
YOU WILL SEE US
WRITER/DIRECTOR
During a men's rights uprising in Portland, Oregon, a female ride-share driver accepts a passenger whose drop-off is in the isolated forest far outside the city. During the long, uncomfortable drive, she realizes she knows her passenger, and that he harbors deep resentments toward her. Resentments that may boil over before they reach his destination...
---
CONFESSIONAL
SCREENWRITER
After two mysterious deaths at a college on the same night, seven students are blackmailed into revealing what they know inside a hidden confession booth. Their confessions unveil the truth—not just about the deaths, but about the confessional as well.
Starring Marcus Scribner (Black-ish), Paris Berelc (Alexa & Katie), Vanessa Marano (The Dead Girls Detective Agency), Lucas Adams (Days of our Lives), Annalisa Cochrane (Cobra Kai), Jess Gabor (Shameless), Brandon Larracuente (Party of Five), Jake Short (A.N.T Farm) and Mia Xitlali (La Quinceañera). Written by Jennifer Wolfe and directed by Brad T. Gottfred.
---
TULPA
SCREENWRITER
Five friends in states of quiet desperation embark on a girls trip to Palm Springs to stay at the home of a wealthy, eccentric woman who'll lead them in an arcane ritual to help them fix their broken lives, resulting in disastrous consequences.
THE CLINIC
SCREENWRITER
When an altruistic high school teacher agrees to drive a student across state lines to get an abortion, the drive is fraught with inexplicable attacks from dark forces until the teacher is forced to confront the truth: her student is carrying the prophesied antichrist.
About
Jennifer Wolfe is an author and screenwriter whose works include the novels Watch the Girls, The Killing Jar, and Struck. Her first produced feature, Confessional, premiered as a Shudder exclusive. The short film, You Will See Us, is her directorial debut, and was an official selection of the Portland Film Festival, the Portland Horror Film Festival, the Atlanta Horror Film Festival, the Ax Wound Film Festival, the Spokane Film Festival, the Port of Fear Film Festival, the San Francisco Indie Short Festival, and the Sin City Horror Festival, where it won Best Screenplay.
Repped by:
Doug Stewart, Sterling Lord Literistic
Gotham Group
Follow Jenn
Photo by Maggie Kirkland